These days, everybody is talking about self-care. When you are too focused on looking after others, it becomes a secondary thing to think about looking after yourself too. But as they say, you aren't much good to others if you aren't doing okay yourself.
We often hear advice left and right on how to look after our self-care. You must have been told multiple times about the importance of good nutrition, the importance of deep sleep, problems with substances such as alcohol, and the importance of physical activity.
Though this advice is very much correct, ignoring them is pretty easy too. The key to self-care is to develop a personalized plan for yourself- this obviously will be different for everyone. Use the tips we have given below and find out what works for your self-care routine!
Tips for Self-Care Journey:
Make Nourishing Meals and Eat Without Guilt!
Indulging in nourishing meals guilt-free is very important for your self-care. Make something that you enjoy cooking. It might be a recipe you lovemaking or the taste of a specific meal that makes you feel good content.
This also means making sure you are getting adequate fiber, proteins, fat, and your complex carbohydrates in the meals you take while making sure the taste is satisfying.
This by no means indicates that you do this even on hectic days, or if it's something you don't do- your self-care routine is not complete. These things always differ from person to person, you might not like cooking at all, and that's okay too.
Go to your favorite restaurants and enjoy your favorite meal guilt-free. Honor your body's needs, eat what you desire, and enjoy what you crave every once in a while. The satisfaction and enjoyment factor is equally important to the nourishing factor.
Schedule Some Me-Time:
Take out some time for yourself, even if you have to add it to your weekly schedule. Do things that bring you joy. It might be journaling, reading, catching up on a book, or just nothing.
Lazing around in bed or gazing at the ceiling not using your internal resources is ideal for your self-care routine. Another idea is to reflect on your values at this time. What is most important to you?
What makes you happy? Take a few minutes and reflect on what's important in life. Why are they important, and how might you be able to add those things in life?
In most cases, when our actions are not aligned with things that matter to you, it starts taking a toll on your mental health and increases your stress levels. So, brainstorm ideas to eliminate all this stress.
Slow Down Your Bedtime Routine:
Instead of rushing to get all that makeup off and crash into your bed, you can instead do something that you will enjoy. This means to slow things down a bit, take those extra 5 – 10 minutes to be present and mindfully do your routine.
This might involve a skincare regime, simply taking your makeup off, or massaging your skin with a good moisturizer! Take the time needed instead of staying in a rushed state.
The sleep you get after a calm nighttime routine vs. one you get after a rushed routine is significantly different. It is also very important to get in your basic 6 – 8 hours of calm sleep.
Honor Your Boundaries:
Set boundaries, know your limits, and try to make sure people around you know them too. Sure, it is important to spend time with your friends and be around your loved ones.
But it is equally, if not more, important to know your limits, likes, and dislikes. What aligns with your values and what does not? Learning how and when to say no is essential for your self-care.
Product Recommendations To Help You In Your Self-Care Journey:
This is a great option for a home spa kit. Packed with all you might need in lavender, this gift set might be your one-stop solution for a well-planned self-care routine. 
It comes with a bar of lavender soap, lip nourishing balm, konjac sponge, soap bag, body lotion, body soak, and lavender tea!
All these products are made with natural premium ingredients paired with essential oils suitable for aromatherapy. This will help you if you plan on having a long relaxing bath as part of your self-care regime.
Ah, lavender. Who needs therapy when we have this fantastic mind soothing element available? That too in a home spa kit? Just talking about it will get you excited. 
Presented in a cute tin basket, this lavender home spa set is here to fulfill all your self-care needs. This Beautifully packed basket has bath bombs, shampoo, eye mask, shower gel, bubble bath, salts, body scrub, lotion, body mist, and body butter!
Lavender oils can revitalize your skin, and the aroma initiates a chemical reaction in your brain that gives a soothing calm sensation. Not only this, the oils leave you with an illuminating glow making you feel cared for inside and out.
Nurture Me has this amazing set of 24 bath bombs. Yes, 24 different bating experiences waiting for you in one box. These are for all your wellness and self-care needs.
This is a must-have in your wellness plan mixed with soothing essential oils and the perfect combination of soul-pleasing aroma. No matter what mood you are in, you will end up finding something for your specific needs in this box. Free from parabens and sulfates, this is loaded with healthy ingredients for your skin.
Aroma Therapy has had multiple proven benefits, therapist turned life coaches also agree that aromatherapy is of optimal importance in the process of your self-care and wellness routine. 
These home scented candles come in a pack of six, with 3 oz. Vintage-themed amber jars. Not only are these wonderful to look at, but the fragrances put to at peace instantly.
You get to fill your personal space with the soul-pleasing aromas of fresh roses, cedar teakwood, sweet grapefruit, rose and garnet berry, and figs!
These come with luxury 100 percent soy wax which means these will burn slower and last longer! Once you are done using, the pretty amber jars are for home decoration as these are easily recyclable and fit for multiple uses.
The Esna home luxury trio candle set is the ultimate premium product to help you on that self-care journey. Aromatherapy is very healing; different aromas have different effects on your neurons, releasing necessary chemicals to keep you calm and well-rested.
Apart from things like regression therapy, these also help you in your healing process a lot. The Esna candles are of pure soy wax, making them stay in the air for longer periods.
These come in amazing Chestnut and Sandalwood, Red Champagne and Whipped Cream, and White Tea.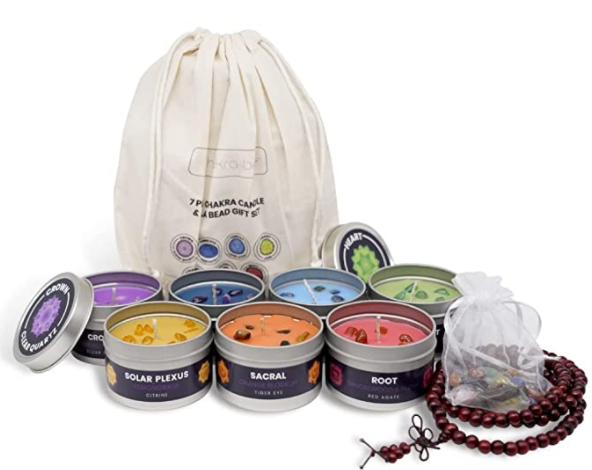 The ChakraBae chakra candles are amazing for people who are just starting with their meditation routines. Made purely out of soy wax, these candles represent the 7 chakras and come with healing benefits targeted to each of the 7 chakras. 
These contain authentic crystals and gemstones along with a beaded mala to fulfill your meditation requirements. For those of you who are wondering, we all have 7 chakras that go all the way from the root to the crown.
This is a Sanskrit word that means spinning energy center. Everything works well for your well-being and life transitions therapy when these chakras are aligned, open, and flowing. These candles have different scents that assist in the opening and aligning of different chakras.
Conclusion:
Experiment and listen to your intuition and figure out a self-care routine that effectively works towards your wellbeing. We hope you found these tips useful; you can take what suits you best and work towards a successful self-care routine!