Aromatherapy is a complete healing treatment for life therapy. It has its extracts from natural plants, flowers, and trees, which makes it 100% pure. You can also refer to Aromatherapy as Essential Oil Therapy. It uses aromatic essential oils to improve the spirit, mind, and body—aromatherapy aids emotional and physical health.
Aromatherapy can either be inhaled or applied topically.
For inhalation, the oil diffuses into the air with the aid of a diffuser container, breathed in, oil droplets, or spray. For topical application, the oil is massaged to the affected area. Therefore, mixing the Essential Oil with a carrier oil is vital before applying it to the skin.
Benefits of Aromatherapy.
Aromatherapy could serve as a life transition therapy. Here are few benefits of aromatherapy. It reduces:
Menstrual cramps.
Muscle aches.
Nauseous.
Insomnia and Fatigue.
Menopausal problems.
Body aches and pains.
Circulatory problems.
Hair loss or Alopecia.
It is vital to seek counsel from health caregivers before using aromatherapy. There are different Essential oils, and the use of each one differs.
Aromatherapy Product Review.
Here are some product reviews of aromatherapy essential oil.
Essential Oil and Diffuser Se From Ultimate Aromatherapy.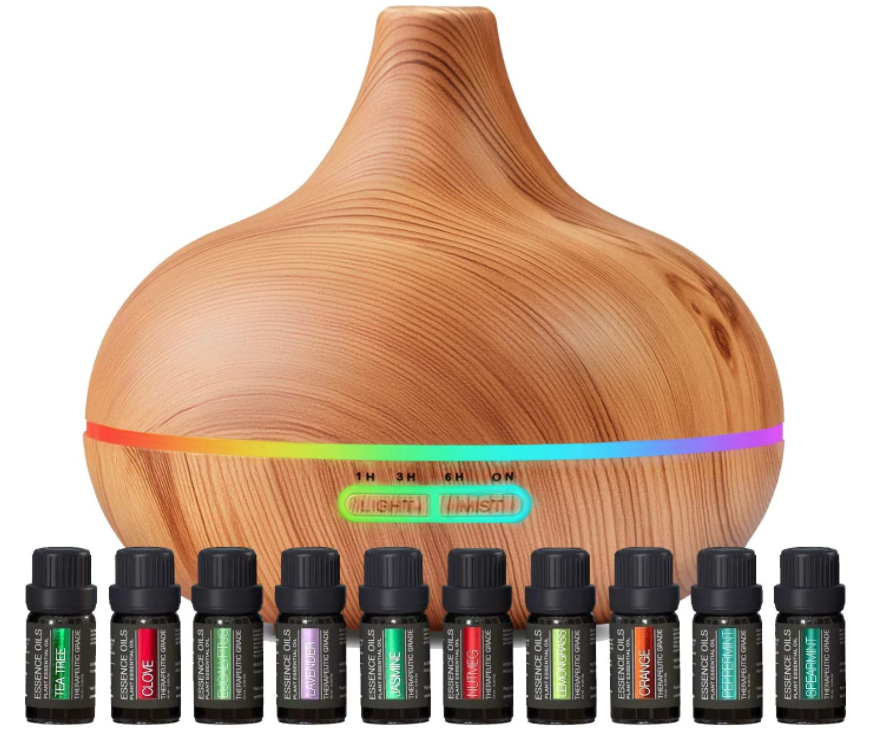 The Essential diffuser capacity is about 400ml and utilizes the technology of art wave diffusion for fitness.
Essence Diffuser comes with seven ambient light and two intensity platforms with about 14 types of light combinations. It has an automatic shutoff for a low water degree. They produce Essence from BPA-free plastic. Their Essential Oil composition includes Orange, Clove, Spearmint, Lemongrass, Tea Tree, Jasmine, Peppermint, Nutmeg, Lavender, and Eucalyptus.
The Oil is bottled in small amber 10ml jars for protection against sun degradation. Essential Oil is free from fillers or additives.
Pros:
It is easy to use.
It has a long-lasting scent.
It is easy to clean and operate.
It keeps insects off your home.
Cons:
It might be allergic to some people.
Also, it is not ideal for asthmatic patients.
It's a 2-in-1 pack that gives healing therapy in a single device. The heat-less ultrasonic diffuser delivers excellent therapeutic effects. It also has a raw salt crystal from the Himalayan to provide natural air purification and ionization for healthy breathing. No cheap filler or additive is used. It has two extraction processes which are the cold press and steam distillation. It comes with convenient and modern features that make it automatic. The ultrasonic diffuser entails a 400ml diffuser and raw Salt Crystal Pink Himalayan worth 2 pounds.
Pros:
It is easy to use.
It has a lasting scent.
It has a low noise level.
Con:
Eden's Garden provides the most outstanding quality Essential Oil for therapy-grade. The Oil is taped directly from flowers, trees, and plants, making it 100% natural and pure. Essential Oil can ease pains, refreshing bodies, inspire minds, and so its aches, among others. Eden Garden Essential Oil is diffused using a personal inhaler, ultrasonic diffuser, or car diffuser. Their therapeutic properties bring relief when massaged to the affected area like muscles, joints, and so on.
Essential oils are for external use. The 12 set entails Cinnamon Leaf, Lemongrass, Joy, Grapefruit, Guardian, Grapefruit Pink Pepper, Stress Relief, Patchouli; Lemongrass Ylang, Bergamot Key, Lime, Frankincense-Serrata, and Rosemary-Spanish. All for an Essential Oil knockout.
Pros:
You can use it externally on affected areas.
It has a good scent.
It is 100% pure.
It is affordable.
Cons:
Its scent might be too intense for some users.
Also, it has a small oil size.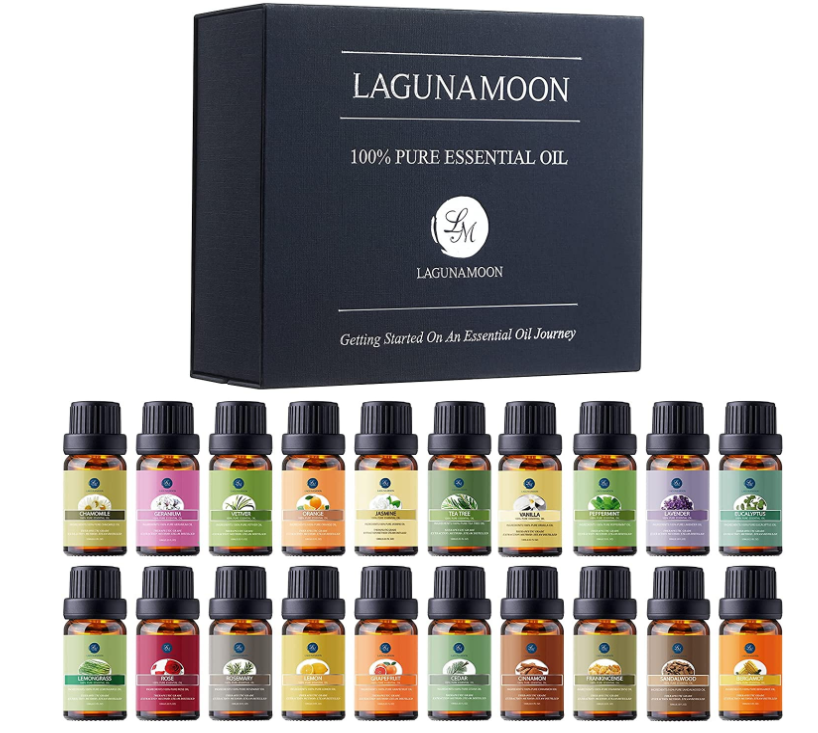 It is a 20 piece Natural Aromatherapy Oil. The Oil is a collection of all – Tea Tree, Rose, Ceder, Lemon, Rosemary, Cinnamon, Grapefruit, Orange, Vetiver, Eucalyptus, Vanilla, Natural Jasmine, Geranium, Chamomile Lavender, and others. With all the above items, it is an all-purpose oil set.
The Oil set can work for diffusion in the office or at home and keep yourself fresh and chill. Each Oil is in a 10ml bottle. It has no fillers or additives.
You can also inhale the Oil.
Pros:
It lasts longer in the time of use and scent.
It is 100% safe and pure.
It is affordable.
Cons:
The diffuser works with Google Home and Alexa. The companion app can be downloaded to control features such as most intensity, LED color, scheduling, and timer settings from the phone. It has a water tank of 400ml which is useable for about 12 hours continuously. It uses an ultrasonic vaporizer. Its box entails one power cable, a new home smart diffuser, support, and instruction contact manuals.
Pros:
It is easy to clean.
It has a good and lasting scent.
It is durable.
It is easy to assemble.
Cons:
It does not last.
Not suitable for wifi connection.
Conclusion
It's no secret that aromatherapy products are a popular choice for wellness. As the research grows, more individuals seek these treatments as an alternative way to manage their stress levels. If you have any questions about how aromatherapy could be beneficial in your life or workplace, please search online for "life coach therapist near me" or reach out to us for a life therapy session. In addition, we can help you explore what oils might work best with your personality type or lifestyle needs.